Did you know that the average small business uses between 80 and 150 parallel software systems to run their daily operations? Even at your own firm, there's a chance you use two or three software systems to see the end of a working day. In this blog we look at integration systems such as PieSync. We are delighted that Claudia Martinez, Marketing Manager at PieSync/HubSpot provided some insights as well.
There's probably a marketing automation software here, a CRM software there, and productivity software in between, to mention a few. That said, a significant part of your evening is probably spent closing tabs and moving from one phone or computer to another.
It doesn't always have to be this way. With the right integration software, evenings can be for pizza and beer, not manually moving data across siloed systems.
Get More Done With Integration
When we were kids, teleportation, telepathy, and telekinesis were the superpowers we craved and that kept us up at night.
Now that we're grown up and in marketing, we don't ask for that much.
Only the ability to integrate.
Be it Zoom, Zendesk, Google contacts, Salesforce, or Pipedrive, all forms of HubSpot integrations between our systems would be welcome.
This is where PieSync comes in.
PieSync: The Integration God
If you crave integration in your business systems, PieSync was made just for you. PieSync promises to bring an end to those dark days of segmented and parallel systems. With PieSync, your business gets:
Real-time and Bi-directional syncs

Secure and Reliable data

Team empowerment and alignment




All this is done on the backdrop of PieSync's ability to integrate with 200 different business apps across different platforms. We asked Claudia Martinez, Marketing Manager at PieSync/HubSpot how integration software, such as PieSync, can help businesses grow:
"As your business grows so does your software stack. New operations and processes require new applications. The challenge is aligning the data within those apps to ensure a smooth CX and avoid isolated data, and that's where PieSync steps in. PieSync brings together more than 200 apps with a two-way sync solution. This type of integration empowers businesses to grow and expand their software stack without the hassle of manual data management."
Not Yet Integrated, You're Missing Out
Any business that embraces software integration will never go unrewarded. With your marketing, sales, and Customer Relationship Management (CRM) integrated, the possibilities are endless. Some of the benefits of using integration software such as PieSync include:
1. Streamline Your Lead Generation
With the rise of multichannel and omnichannel marketing, your business probably uses different software systems to reach out to its audience and generate leads.
Without proper integration, your business risks having inconsistent information across its lead generation and CRM. Not with integrated systems. Bi-directional and real-time integration like PieSync keeps all information across your marketing channels consistent.
How PieSync works with HubSpot (source: PieSync)
2. More Personalisation? Yes Please
Without consistent data across different platforms, a personalised and customer-centric experience remains a pipe dream. To offer personalisation, customer data has to be standardised and consistent across all your systems. This is where integration tools come in.
Real-time and bi-directional synchronisation will offer your customers a seamless experience, even as they engage with your business through different platforms.
3. Team Alignment
As a business grows, keeping teams aligned and up-to-date becomes more complex. Transferring data and keeping your teams on the same page requires consistency and standardisation across systems.
With PieSync, team alignment has never been this easier. PieSync offers standardised data across all your teams, making them more efficient and productive.
4. Reliable and Up-To-Date Data
Without integration, many businesses are forced to rely on manual data entry, import, and export to integrate data between their parallel systems. Well, what could possibly go wrong?
If you can live with inaccurate data entry, inconsistent data across platforms, and the possibility of these issues spilling over into customer experience, manual data entry can have a place in your business.
With integration software, you can rest assured that your days of manual entry and its subsequent days of righting wrongs due to inaccurate data will be over. You will have accurate, reliable, and up-to-date data across your platforms. The best part is that it's automated-you won't have to break a sweat.
Syncing Google Contacts with HubSpot (source: PieSync)
5. Real-Time Visibility
Let's say you make changes on one of your platforms; how long does it take before the changes in data are reflected in other systems in your business?
If you changed prices today in the morning, is there a possibility that a customer would show up claiming they read the old price on one of your affiliate websites?
With a bi-directional integration across your systems, you won't have to deal with these data inconsistencies in your customer relations.
With reliable integration software comes the ability to make changes in one part of your siloed systems and see them reflect in all your systems in real-time. This will go a long way in helping you streamline your customer engagement
6. Lower Operational Costs
All inefficient systems are labour intensive. Siloed software is no exception since parallel and non-integrated systems require more of your marketing team to run.
More employees working more hours on manually importing, exporting and moving data across siloed systems is expensive for your business. It goes to increase your wage burden further and increase the amount of resources your business spends on unproductive labour.
Automating your integration to an able and reliable software goes a long way in cutting unnecessary costs and streamlining your budget.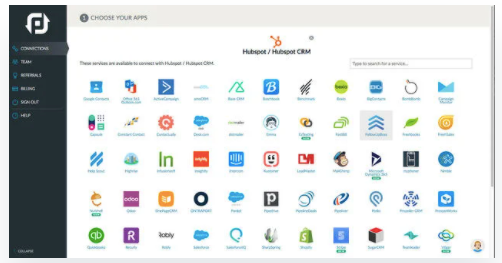 Data syncing - as easy as pie (source: PieSync)
7. More Productive Teams
All forms of automation lead to productivity. As we established, hundreds of productive hours are spent on redundant tasks such as manual data entry, import and export that a business could otherwise automate.
This is valuable time and money that your marketing team could spend on more rewarding tasks such as SEO, inbound marketing, and improving customer experience.
Integration software such as PieSync frees your team of these redundant tasks enabling them to focus more on rewarding tasks, further increasing their productivity.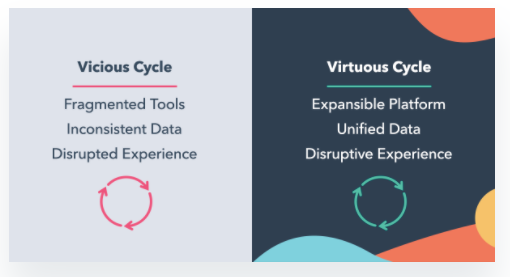 Benefits of using PieSync and HubSpot (source: PieSync)


8. Exceptional Customer Experience
The climax of integrating all your siloed software is an improved customer experience. The end goal of a central point of truth, consistency in data and personalisation was meeting and even exceeding customer expectations. PieSync offers that.
Data integration leads to shorter response times, more intuitive websites, and flexibility, among other things. Eventually, your systems will be in a better place to meet customer demands and expectations.
Integration within Your Reach
There is no limitation to what a business with integrated software and do, and here at Atlanticus Digital, there is no limit to the software integrations we offer.
As one of the few HubSpot and PieSync certified in Ireland, we offer solutions for marketing teams seeking HubSpot integration.
For more information, contact us today and let us be part of your story.