Atlanticus Digital has announced that it is now a Gold partner with
HubSpot's Solutions Partner Program
.
HubSpot,
a leading growth platform, works hand-in-hand with partner experts to grow their businesses through inbound software, services, and support.
The Solutions Partner Program is an ecosystem of experts that offer marketing, sales, customer service, web design, CRM, and IT services. It's a global community that believes putting customers first is the key to growth, and enables its members to offer a wide breadth of more sophisticated solutions across the entire customer experience.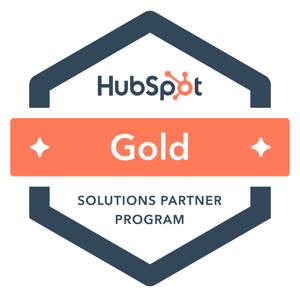 Over the past year, Atlanticus Digital has grown its business by incorporating inbound strategies to attract, engage, and delight customers. Atlanticus Digital was created to help businesses to grow. They do this by utilising inbound marketing, increase leads and improve Return On Investment. The company brings an enhanced commercial edge to our marketing strategies that personalise the user experience and increase the returns from investment in key campaigns.

Niall Parfitt, owner of Atlanticus Digital said " We are delighted to be recognised as a Gold Partner with HubSpot. We have been a partner since 2018 and have used the platform to help our clients gain competitive advantage and acquire new customers. We look forward to strengthening this relationship with HubSpot in the future."
Dan Tyre, Partner Sales Enablement Manager for HubSpot commented "Niall Parfitt has been a productive member of the HubSpot ecosystem for many years. His investment in many of our programs and expertise in marketing and sales has been effective in bringing inbound services to companies throughout Ireland. I'm thrilled and beyond proud to welcome him to the gold tier of the partner program."

Caleb Buscher, Channel Account Manager for the HubSpot Partner program added "I've been impressed with the level of dedication and expertise that Niall Parfitt and the team bring to the HubSpot Partner Program. With their depth of experience and knowledge, they've been able to help companies Grow Better through inbound services. Becoming a Gold Partner is a great accomplishment and an indication of things to come for Atlanticus Digital"

About Atlanticus Digital


Atlanticus Digital has 20 years of experience of working with large organisations to SMEs and are experienced in all areas of inbound marketing including marketing strategies, social media, web and email marketing. The company is based in Dundalk and Belfast and has clients all over Ireland and Europe.

Atlanticus Digital are proud to be a HubSpot Agency Partner and we use the HubSpot methodology to form our strategies. HubSpot allows clients to increase traffic, convert leads, and prove ROI – backed by a team that helps you grow. The software enables businesses to bring their marketing, sales and service teams, tools, and data together, all in one place.



About HubSpot

HubSpot (NYSE: HUBS) is a leading customer relationship management (CRM) platform that provides software and support to help businesses grow better. The platform includes marketing, sales, service, and website management products that start free and scale to meet our customers' needs at any stage of growth. Today, more than 95,000 customers across more than 120 countries use HubSpot's powerful and easy-to-use tools and integrations to attract, engage, and delight customers.
How to Turn Your Leads into Customers
At Atlanticus Digital, we understand the power of a single conversion in growing your business. Contact us today to start transforming your leads to clients.