It's hard to believe that in August 2004, LinkedIn had a measly total of 1 million professionals. The company, founded by Reid Hoffman in 2002, is now closing in on 600 million users and close to 20 million company pages.
LinkedIn is no longer just a page for finding and posting jobs, it's a platform for making meaningful connections and the perfect platform for B2B marketers. If you're not using LinkedIn as part of your digital marketing strategy – here's why you should be: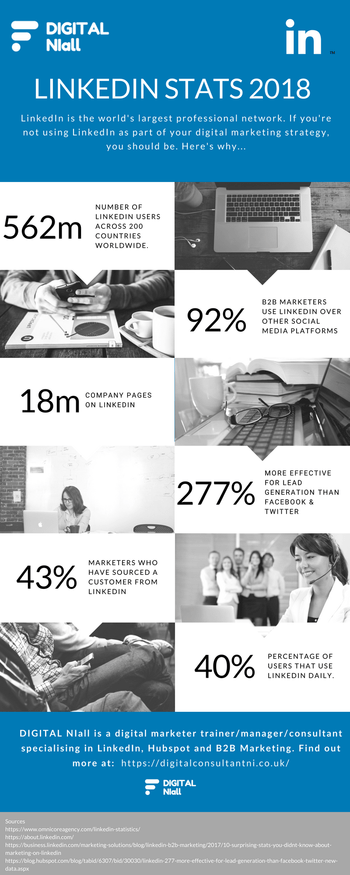 And there's more…
If the above statistics weren't enough, here's a few more:
LinkedIn Business Solutions
Business Solutions is the suite of premium products that LinkedIn offers its users. These are broken down as follows:
Would You Like To Learn More?
Contact me today to find out more about me and how I can help you create and manage LinkedIn campaigns to help your business generate more leads.
LinkedIn Workshops

We have workshops now available for you to discover the power of Linkedin for individuals and SMEs
Optimising your Linkedin profile
Building your brand
Optimising your profile
How a Linkedin Profile can help you business
Best Practices
Building you Linkedin Network
The importance of networking on Linkedin
Key terms for networking on the platform
Networking tips & examples
Linkedin tools
Turning leads into Clients